Overview: What is the first step involved in developing and implementing a social media marketing campaign
There is little doubt regarding the effectiveness of social media in creating a brand, driving traffic to your website or connecting with the right target audience. According to one stat, over 90% of social media users interact with some brand or business on a regular basis, which clearly shows the significance of the platforms to communicate and engage the target audience.
However, the key to achieving the desired ROIs with social media marketing lies in the comprehensiveness of the strategy you adopt. Without the right strategy, you won't be getting the desired results, no matter how much money you put into the campaigns.
At the core, a social media strategy defines the sense of purpose for the marketing campaigns, assisting you to come up with definite goals, target audience, and ROIs you want to achieve.
Thereby, the first step involved in developing and implementing a social media marketing campaign is to come up with a strategic marketing plan, which nicely sums up the direction of the campaign, efforts you need to put, and ROIs you want to achieve.
Here in this blog, we will be looking at the most critical step that you would require to follow to create a successful social media marketing campaign. So, let's get started…
So what is the actual first step in developing and implementing a social media marketing campaign?
As mentioned above, the first step involved in developing and implementing a social media marketing campaign is to come up with a detailed strategy. Now, the critical aspect in this regard is to understand the key objectives of your campaign.
Without a very clear and definite campaign objective, it would be nearly impossible to achieve anything concrete from the campaign; since you won't be able to quantify the gains of the campaign. A good example of a campaign objective may be to increase website traffic by 50% year on year or to have 1000 more monthly followers on your social media pages. Setting such tangible targets will guide your marketing efforts and help you generate the right content strategy to meet ROIs.
Here're some key objectives you can set for your social media marketing campaign:
–         Increase brand awareness
Brand awareness is one of the most common business objectives for social media marketing campaigns. The objective is aimed to establish a business name in the marketing. Now, in order to achieve brand awareness targets, you would need to generate content that reflects the entire philosophy and values of your business. Couple this with the promotional messages, and you are all set to create an authentic and lasting brand awareness campaign.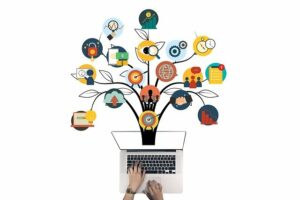 –         Generate leads and sales
Today's digital customers don't make purchases by accident. In fact, according to one study, digital customers like to research/compare products/services offered to them with at least five competitors before committing to the purchase. This means that when you are looking to generate leads and sales with social media marketing campaigns, you need to generate content that delivers value and information to customers. Also, you would require personalizing the messages to the tune of the target audience to engage them and lead them through the sales funnel.

–         Growing brand's audience.
Growing the brand's audience is yet another tangible and effective marketing objective for any social media campaign. This objective requires brands to identify and create new ways to spread brand awareness and lure more followers to the pages.
A key component to achieving this objective is to stay alert to user-generated content. You need to catch up with users' conversations on the social platforms about your brand or industry and try to engage them from there. For this, you need to have a robust tracking, listening and analytical strategy. For instance, you may require to track any phrases, hashtags or keywords relevant to your business. By tracking relevant keywords or phrases, you would be able to reach out to an audience interested in your offering or industry, and from there, you can lure them to your brand.
–         Boost community engagement.
According to stats, nearly 50% of online shoppers like to make purchases from brands that they are able to communicate smoothly. Since social media platforms are best to engage and communicate with the audience, most brands use them to improve their community engagement. To achieve this objective, you need to create intriguing content that triggers user-generated content. Also, you should be tracking the user-generated content closely to respond and engage users as and when required. One of the best approaches to boost community engagement is to generate content asking questions from the audience.
–         Drive traffic to your site.
Social media platforms are also great to boost traffic for your website. If your objective of a social media campaign is to drive traffic to your website, you need to generate promotional posts or run social ads; intriguing users to visit your website for more details. Using URL clicks with social media posts is the best approach to improve the traffic rate on the website.
Takeaway!
There may be dozens of other steps that would seal the deal for your social media marketing campaign. However, when we talk about the first step involved in developing and implementing a social media marketing campaign, it's all about understanding your key objective and setting tangible goals to achieve desired ROIs. You can use any one or combination of the goals mentioned above to have a sense of direction and a discrete, measurable understanding of the campaign objectives. Just don't complicate the campaign by having too many goals at once, which may backfire by distracting you and resulting in poorly generated content.
Would you like to explore more about first step involved in developing and implementing a social media marketing campaign, click on this link to contact us more: Frequenc.com
FAQ:
What's the first step you take to promote my business through social media marketing?
The first and foremost step for all our social media marketing campaigns is to get to know the client's business model. We conduct a meet-up session, discussing your business aspirations over a cup of coffee. Only once we fully understand your business model and ROIs you wish to achieve; we move forward in creating a personalized campaign that truly represents your brand.
What does my social media strategy include?
We devise a customized social media strategy for each client, clearly breaking it down to the individual post or post category. Each post is designed keeping in view the business model, target audience, and ROIs we wish to achieve. The campaign will include interactive infographics to establish brand authority, whereas engagement posts will be created to improve customer interaction with the brand.