FrequenC has been awarded the prestigious Gold Hermes Creative Award in the Innovative Branding and Promotional Campaign categories! This outstanding achievement is a testament to our commitment to merging the tech and creative worlds.
Our collaboration with NextCypher Productions, a web3 sci-fi production studio, has enabled us to lead a campaign fostering a strong community between fans and entertainment companies. We are grateful for the opportunity to work alongside visionaries like Jeff Garzik, whose dedication and passion have been instrumental in our success. View the award page here.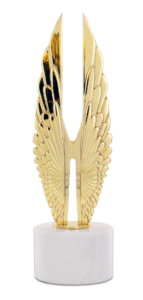 Join us in celebrating this accomplishment and the hard work of our fellow award recipients by visiting the Hermes Creative Awards page. If our achievement inspires you and you are keen to collaborate, please reach out to us to learn how we can work together to create extraordinary campaigns that resonate with your audience.
Let's continue to push boundaries and create unforgettable experiences together!
Visit the Hermes page to congratulate other recipients: https://enter.amcpros.com/hermes/winners/